Black beans and pinto beans are two of the most popular and common beans that we know and use in our kitchen. Folks often wonder about the differences between these two varieties: which one is better, flavor wise, nutritionally? So, I wanted to share some thoughts on black beans and pinto beans, their health benefits and recipes you can make with them!
This post contains helpful tips and tricks! If you're in a rush, please use the "Jump to Recipe" below!

This post might contain affiliate links. If you click on those and make a purchase, I earn a small commission at no extra cost to you. As an Amazon Associate I earn from qualifying purchases.
What are black beans? 
Black beans (Phaseolus vulgaris) belongs to the Fabaceae (also known as Leguminosae) family - a significant plant family with major commercial value.
Black beans can be eaten whole and are often used as a staple in various popular dishes in many parts of the world. They are thought to have originated in the Americas.
They are especially popular in Latin American, Mexican and Indian cuisines where they are often used in soups, stews, curries, and rice dishes. Black beans are also used as a meat replacement (I love black bean burgers!)
There are many varieties of black beans, but the most commonly available one is the black turtle bean (found in most local grocery stores!) Black beans are one of the healthiest beans that you can use in your dishes. They're a great source of protein and dietary fiber as well, while being low in fat and calories.
One cup of black beans contains about 15 grams of protein and 20 grams of fiber. Black beans are also a good source of iron, potassium, magnesium, and zinc. Black beans have a firm, nutty texture, and earthy flavor. They are small in size and have a black or purple dark color. When cooked, black beans become tender but retain their shape.
What are pinto beans?
Pinto beans are also type of common bean (Phaseolus vulgaris, pinto group). They are the most popular type of bean in the United States, and known for their prominence in Mexican dishes (like these refried beans!)  
Pinto beans likely originated in the Peruvian highlands, and spread throughout Central and South America, as a trade commodity.
Pinto beans are small, reddish-brown beans that have a speckled appearance. They are named after the Spanish word for "painted," which is "pintado." Pinto beans are usually sold dry, but they can also be found canned or fresh.
Pinto beans tend to have a nutty flavor and a creamy texture (similar to kidney beans). They are often used in dishes like refried beans, chili, and soups and are common in Southwestern and Caribbean dishes.
Pinto beans are also a healthy bean variety and a good source of fiber and protein. They contain B vitamins (vitamin B6) and minerals like iron, potassium, and magnesium which help maintain blood sugar levels and heart health.
Key differences between black and pinto beans
The key differences between black beans and pinto beans span their origin, appearance, texture and flavor, as well as uses in various cuisines and dishes.
| | | |
| --- | --- | --- |
| Differences | Black Beans | Pinto Beans |
| Origin  | Black beans are from south and central America | Pinto beans are from the Peruvian Highlands |
| Appearance | Black beans are black, oval and boat-shaped  | Pinto beans are brown, speckled and oval in shape.  |
| Nutritional Value  | Black beans are high in fiber and protein. It is also low in calories. | Pinto beans are more likely black beans but it has higher sodium. |
| Flavor Profile  | Sweet and nutty flavor  | Nutty and creamier |
| Texture | Hard and earthier  | Soft and creamier  |
| Cook Time  | One and half hours to two hours (dry beans) | Two to two and a half hours |
| Uses | This can be used for salads, dips, grain bowls, soups and burritos.  | These beans are used as fillings for burritos, as dips and spreads, and soups |
FAQs
Are black beans or pinto beans better in burritos? 
When it comes to taste, black beans tend to have a richer, more robust flavor than pinto beans. If you're looking for a heartier burrito, black beans may be the best way to go. Texture-wise, black beans are slightly firmer than pinto beans. This can make the biggest difference in how well the beans hold up in a burrito.
How do you store black beans or pinto beans? 
To store dry beans, transfer them to an airtight container and store in a cool, dark place. If you plan on keeping them for a longer period of time, it is best to store them in the fridge or freezer. Make sure the beans are not exposed to moisture. If they are even slightly damp, they can start to grow mold and mildew.
What are phytates in beans? How can you get rid of them? 
Phytates in beans are compounds that can bind to minerals, making them unavailable for absorption. This is why beans are sometimes referred to as "anti-nutrients." Soaking beans overnight or cooking them with a little acid (e.g., vinegar or lemon juice) can help get rid of or break down phytates. 
Do you need to cook canned black beans or pinto beans?
It depends! Both canned black beans and pinto beans can be eaten as they are. However, they usually taste better when cooked, depending on the recipe. When cooked, they tend to have a softer, melt-in-your-mouth texture while uncooked beans are firmer and have a more meaty texture.
Can you use black beans instead of pinto beans or vice versa?
Both black beans and pinto beans can generally be substituted for each other. For instance, you can use black beans in soups, or pinto beans in burritos. But while they'll both result in delicious dishes, their flavor profiles and textures will be slightly different.
Recipes with Black and Pinto Beans
There's never a shortage of recipes using either of these beans - from soups and stews to burritos and burgers.
Although black beans are generally consumed plain, their tougher texture makes them ideal for salads or even in dips. They actually taste fantastic in tacos since they pair nicely with many spices, such as chili powder.
Pinto beans are frequently incorporated as fillings to dishes like burritos because of their creaminess. In addition, black beans and pinto beans go well together since they have different flavors and consistency. 
Both varieties are available as canned beans, or you can start out with dry beans and then cook them to your liking. I've rounded up some of my favorite recipes whether you want pinto or black beans below!
Black Bean Recipes
From showing you how to cook black beans in the Instant Pot to delicious chili, tacos, casseroles and patties, find some of my favorite black bean recipes here.
Instant Pot Black Beans
These easy and tasty black beans are the perfect addition to any meal! Plus, they're made in the Instant Pot so there's no need to soak them overnight.
Get Instant Pot Black Beans Recipe!
Sweet Potato and Black Bean Tacos
Delicious Sweet Potato Black Bean Tacos for Taco Tuesday whether you're vegetarian or a meat eater on Meatless Monday!
Get Black Bean Taco Recipe!
Easy Vegan Black Bean Chili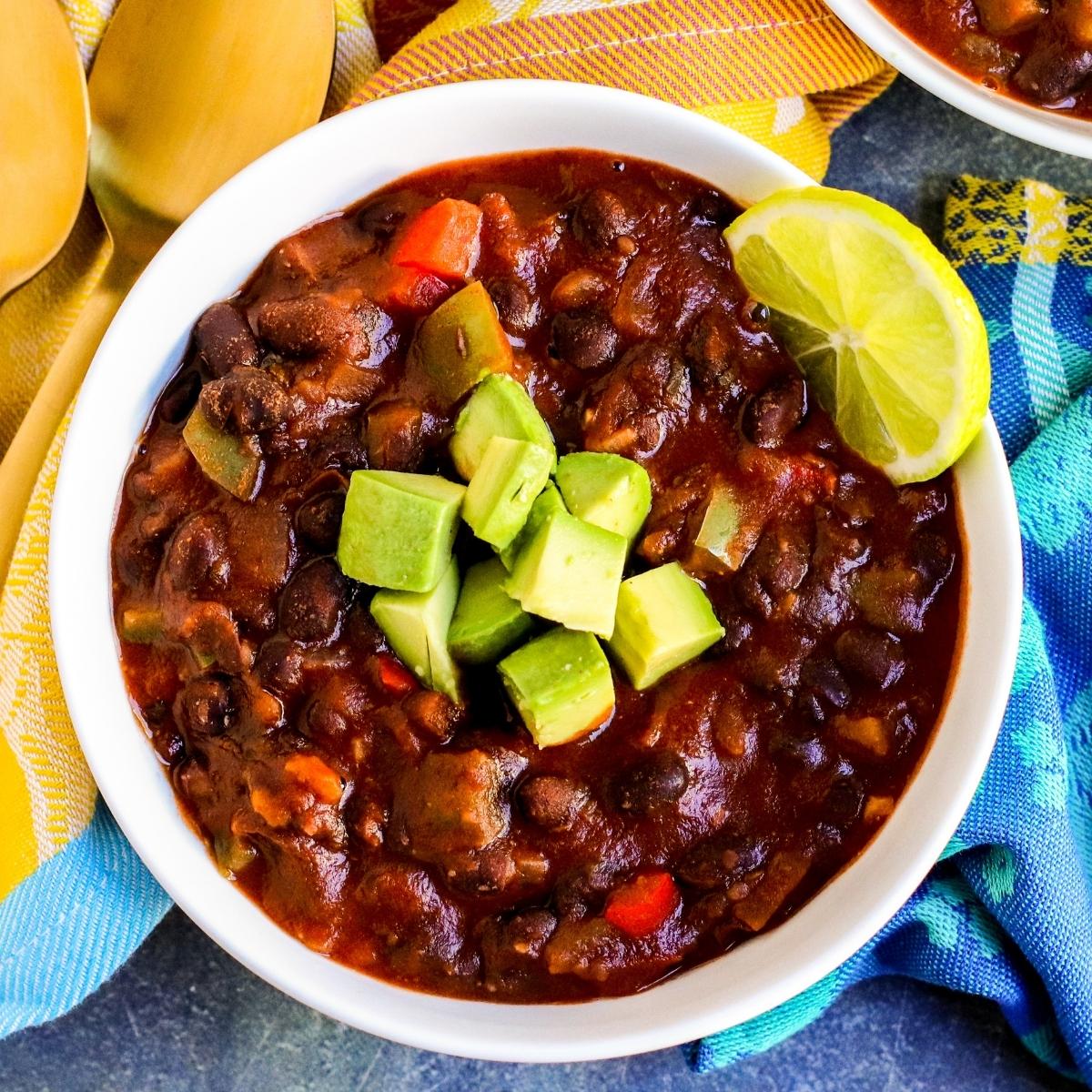 Homemade Vegan Black Bean Chili is an easy one-pot meal you can make in 30 minutes with pantry ingredients, dried spices and a few veggies.
Get Black Bean Chili Recipe!
Vegan Black Bean Quinoa Casserole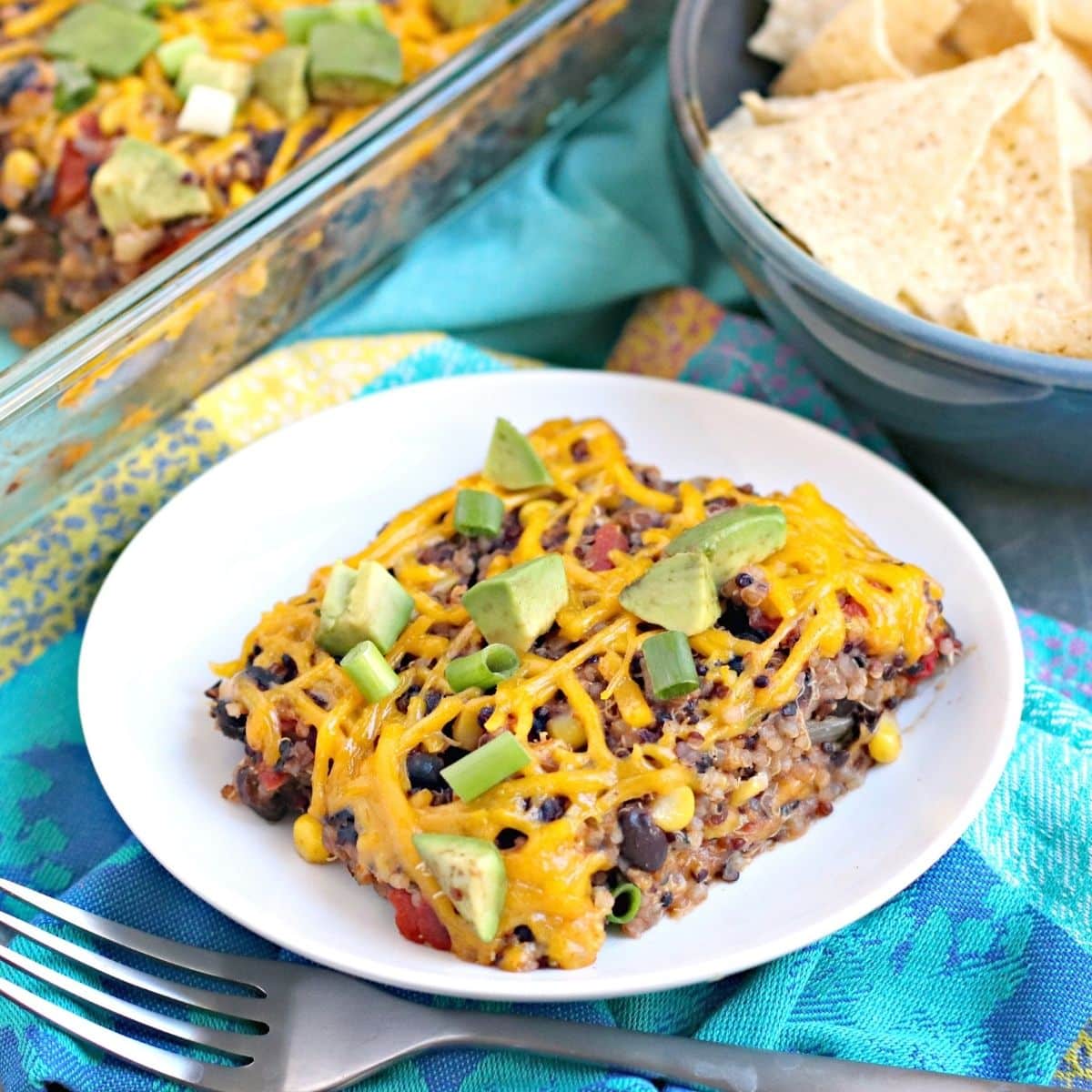 Vegan Black Bean Quinoa Casserole is loaded with seasoned black beans, quinoa, and non-dairy cheese. A Mexican-inspired family favorite!
Get Black Bean Quinoa Casserole Recipe!
Millet BlaGck Bean Patties (Gluten Free)
Millet Black Bean Patties - crispy on the outside, these patties pair perfectly with a creamy Spicy Chipotle Sauce and Pineapple Avocado Salsa!
Get Black Bean Patty Recipe!
Southwest Black Bean Pasta Salad (Vegan!) ~ Veggie Inspired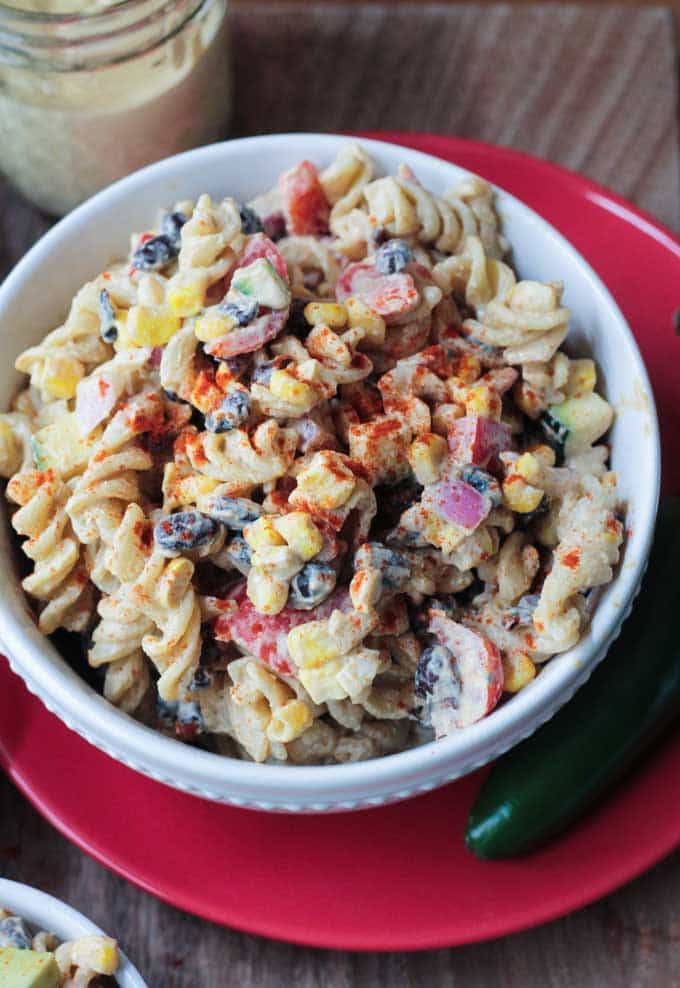 This Southwest Black Bean Pasta Salad will be your new go-to backyard BBQ dish! It makes enough to feed a crowd! Leftovers are great, too!
Get Southwest Black Bean Salad Recipe!
Cowboy Caviar (aka Texas Caviar)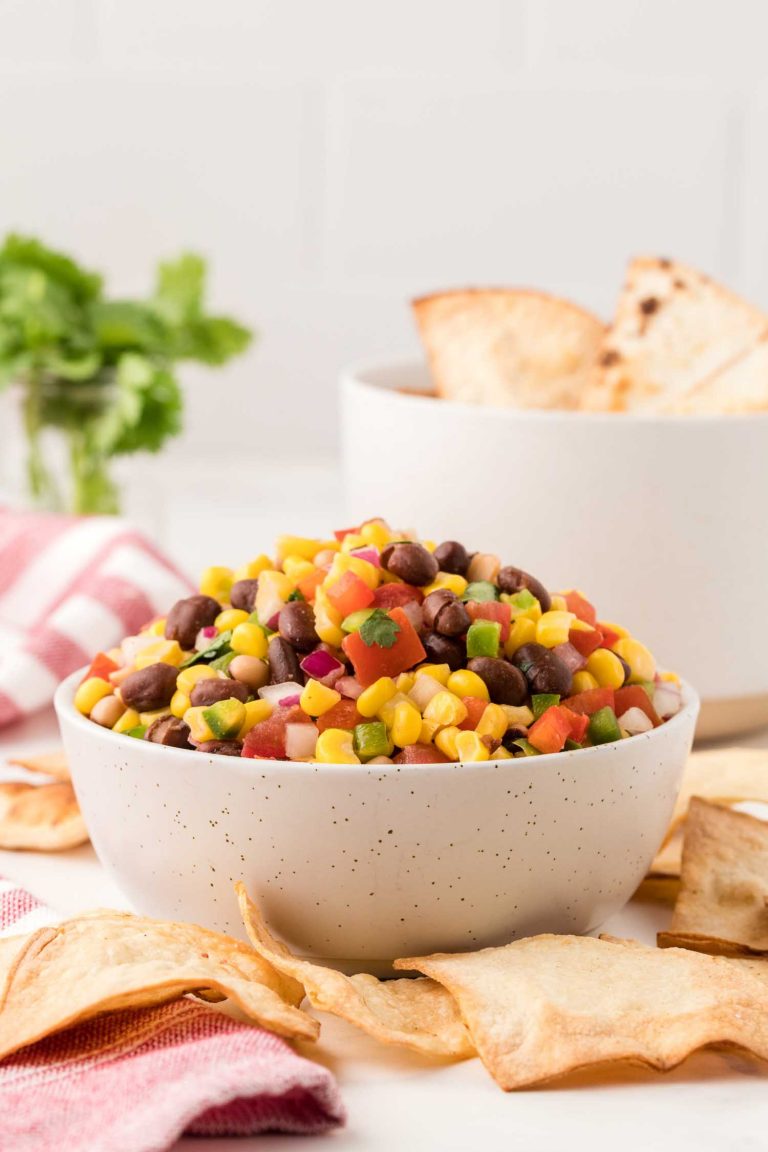 This easy-to-make salad with a sweet and tangy lime vinaigrette. It will be your new go-to party appetizer and is perfect for tailgating!
Get Cowboy Caviar Recipe!
Pinto Bean Recipes
From cooking pinto beans in the Instant Pot to classic refried beans and even a pinto bean soup, find some of my favorite pinto bean recipes below.
Instant Pot Pinto Beans - Easy No Soak!
Our Ultimate Instant Pot Pinto Beans recipe is quick and easy - with no presoaking! You'll love these no soak pressure cooker pinto beans.
Make Pinto Beans in Instant Pot!
Easy Vegan Refried Beans (One Pot, Gluten Free, Oil Free!)
These easy vegan refried beans will mean you'll never reach for canned refried beans again! It's a one pot, 20 minute recipe that is also gluten-free and oil free!
Get Vegan Refried Beans Recipe!
Pinto Bean Soup
This delicious and healthy pinto bean soup recipe is perfect for a cold winter day! Vegan and gluten-free as written, and made in just one pot!
Get Pinto Bean Soup Recipe!
Vegan 3-Bean Jackfruit Chili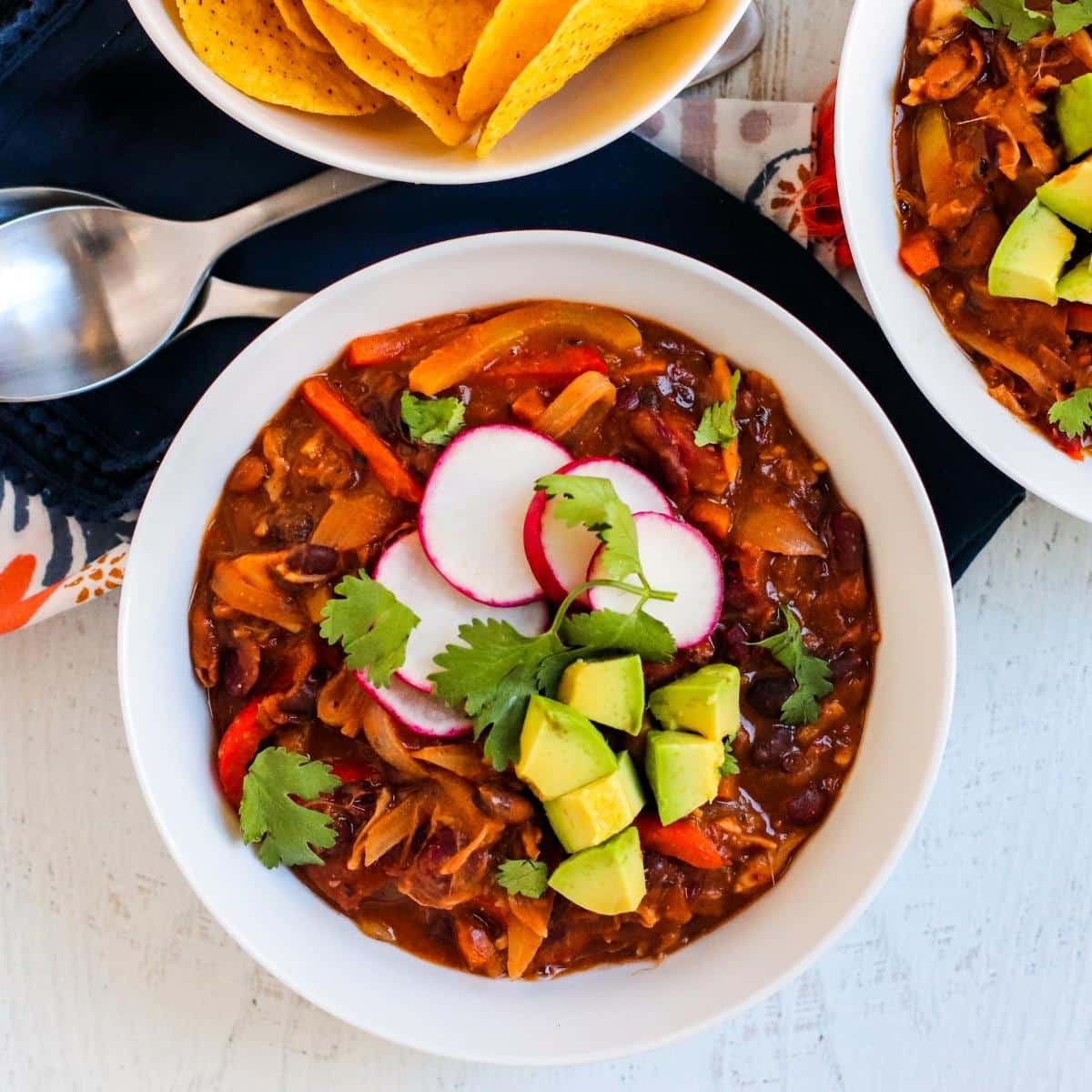 Hearty and warming with three types of beans and fajita-style veggies, you won't miss the meat in this vegan Jackfruit Chili.
Get 3 Bean Chili Recipe!